Books
Thinking Fast and Slow
Recommended by Ryan Dump.
Kahneman's work wittily shows the power of the human mind and lends insight into why we make the decisions that we do. Using you as the subject, you may be surprised learn how inaccurate our automatic thinking really is.
The Body Keeps The Score
Recommended by Masuma Rasheed
This book can be a rather intense read but definitely worth it! Van Der Kolk will take you down 30 years of experiencing describing how trauma impacts our physical health to the point where it has become one of the most urgent public health issues of our time. The author combines science and human stories to provide credible evidence of how trauma directly impacts our bodies- - if you are interested in science and research then this one is for you!
F*CK FEELINGS
Recommended by Ryan Dump
The only self-help book you'll ever need, from a psychiatrist and his comedy writer daughter, who will help you put aside your unrealistic wishes, stop trying to change things you can't change, and do the best with what you can control—the first steps to managing all of life's impossible problems.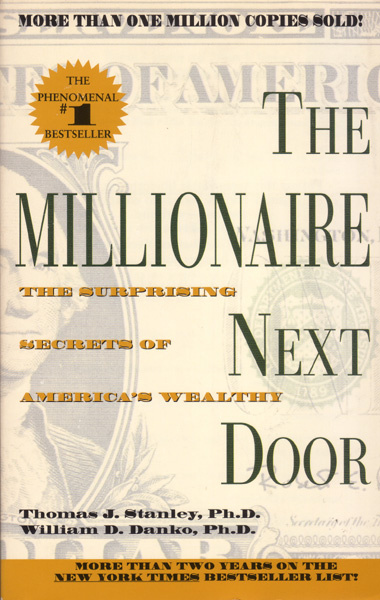 The Millionaire Next Door
Recommended by Ryan Dump
The secret is not how to earn wealth, but, rather, how to maintain wealth. Learn both while also learning the health and relationship benefits of living within your means.
Attached. 
Recommended by Masuma Rasheed
The title says it all! In this book, psychiatrist and neuroscientist Dr. Amir Levine and Rachel Heller scientifically explain the different attachment styles we and our potential partners develop over the years. It's an easy read to help you build self-awareness about how you relate to others and build fulfilling connections. Highly recommend this one for book club!
Yoga for Depression
If you feel like your yoga mat holds a safe space for you then check out this book. Weintraub discusses breath work and yoga practices supported by evidenced-based research in psycho-neurobiology to assist in clearing away barriers such as obstructing beliefs, emotional limitations, and tension. Weintraub provides guidance on enhancing your mindful practice both on and off the yoga mat!
The Wise Heart
Have you ever been interested in learning more about how Buddhism and Psychology intersect? Kornfield offers the West an illuminating journey into understanding Buddhist mindfulness practice through stories of his childhood, psychotherapy private practice, and teacher/mentors along the way. Check out this book if you want to uncover the unlimited capacity for peace within you.
Financially Ever After
Too often with money, couples face two choices: fight and risk making the situation worse, or keep quiet and risk making the situation worse. Financially Ever After offers a third option: family financial fluency—the insight, knowledge, and vocabulary every couple needs to communicate effectively about money.
Gang Leader for a Day
When first-year graduate student Sudhir Venkatesh walked into an abandoned building in one of Chicago's most notorious housing projects, he hoped to find a few people willing to take a multiple-choice survey on urban poverty--and impress his professors with his boldness. He never imagined that as a result of this assignment he would befriend a gang leader named JT and spend the better part of a decade embedded inside the projects under JT's protection.
There Are No Children Here
This is the moving and powerful account of two remarkable boys struggling to survive in Chicago's Henry Horner Homes, a public housing complex disfigured by crime and neglect.
Born a Crime
Born a Crime is the story of a mischievous young boy who grows into a restless young man as he struggles to find himself in a world where he was never supposed to exist. It is also the story of that young man's relationship with his fearless, rebellious, and fervently religious mother—his teammate, a woman determined to save her son from the cycle of poverty, violence, and abuse that would ultimately threaten her own life.
Contagious
What makes things popular? If you said advertising, think again. People don't listen to advertisements, they listen to their peers. But why do people talk about certain products and ideas more than others? Why are some stories and rumors more infectious? And what makes online content go viral?

The Alchemist
Combining magic, mysticism, wisdom and wonder into an inspiring tale of self-discovery, The Alchemist has become a modern classic, selling millions of copies around the world and transforming the lives of countless readers across generations.
Zen and the Art of Motorcycle Maintenance
One of the most important and influential books written in the past half-century, Robert M. Pirsig's Zen and the Art of Motorcycle Maintenance is a powerful, moving, and penetrating examination of how we live . . . and a breathtaking meditation on how to live better. Here is the book that transformed a generation: an unforgettable narration of a summer motorcycle trip across America's Northwest, undertaken by a father and his young son.
Giovanni's Room
Set in the 1950s Paris of American expatriates, liaisons, and violence, a young man finds himself caught between desire and conventional morality. With a sharp, probing imagination, James Baldwin's now-classic narrative delves into the mystery of loving and creates a moving, highly controversial story of death and passion that reveals the unspoken complexities of the human heart.
Barking to the Choir
Father Gregory (G Dawg) Boyle loves his Homeboys and they love him back. In our divided world where we are often quick to judge and dismiss those who fall on the opposite end of the spectrum, Father G encourages us to "step into the margins." The way he shares his memories and shows the love he has for humanity is a powerful message that challenges and inspires readers.
Pour Your Heart Into It
The success of Starbucks Coffee Company is one of the most amazing business stories in decades. What started as a single store on Seattle's waterfront has grown into the largest coffee chain on the planet. Just as remarkable as this incredible growth is the fact that Starbucks has managed to maintain its renowned commitment to product excellence and employee satisfaction.
Let My People Go Surfing
From his youth as the son of a French Canadian handyman to the thrilling, ambitious climbing expeditions that inspired his innovative designs for the sport's equipment, Let My People Go Surfing is the story of a man who brought doing good and having grand adventures into the heart of his business life-a book that will deeply affect entrepreneurs and outdoor enthusiasts alike.
Grit
The daughter of a scientist who frequently noted her lack of "genius," Angela Duckworth is now a celebrated researcher and professor. It was her early eye-opening stints in teaching, business consulting, and neuroscience that led to her hypothesis about what really drives success: not genius, but a unique combination of passion and long-term perseverance.
Stop Anxiety from Stopping You
This self-help book is great for people who have experienced panic attacks and social anxiety. Outside describing the signs of anxiety, panic attacks, and social anxiety, Dr. Odessky explains practical ways to overcome anxiety once and for all. Check out this book if you're ready to master anxiety and stop letting anxiety get in the way of your own life.
The Code of the Extraordinary Mind
This is a remarkable book for people who are ready to challenge societal rules and their core beliefs about the world. Lakhiani helps readers challenge their thinking on relationships, work, money, goal-setting, happiness, and meaning. Check out this book if you're ready to redefine success to meet your life goals.
The State of Affairs
Often if we experience an affair this becomes a traumatic experience for us. We feel stuck, lost, in shock, embarrassed, defensive, angry, etc. Perel describes this process utilizing both her own clinical examples of couples she treated over the years, as well as the experience of her trusted colleagues. Perel walks us through the healing process from a different perspective, one that is neither prescriptive nor judgemental. This is a must-read not only for clinicians and those personally impacted by an affair but also for anyone in a relationship.
Playing Well with Others
So you saw "50 Shades of Grey" and think you have a pretty good understanding of the wonderful world of Kink? I think not! Wondering what happens at a munch? Don't really know what it means to be in a DS relationship? This is a great introductory, sex-positive, book for those curious about the ins and outs of the lifestyle.
Boundaries
"No" is a sentence all by itself. This is your guidebook to setting and maintaining boundaries, empowering you to say "No," and take control. An opportunity to not only define but understand the role having healthy boundaries will play in your life. This book will help you to identify not only who you are, but who you are not in all areas, physically, mentally, and spiritually.
The 4-Hour Work Week
The twenty-nine-year-old serial vagabond and successful entrepreneur has been teaching a wildly popular course at Princeton University: a how-to and why-to guide to throwing out the old methods for success (balancing life and work, retiring well, having a great nest egg) and replacing them with an entirely new way of living. The 4-Hour Workweek explains what a lifestyle entrepreneur is and why you should want to become one. It teaches you how to kill your job and design a life, the 80/20 rule and how it increases productivity, how to replace your dreams with goals, and more. Listeners can lead a rich life by working only four hours a week, freeing up the rest of their time to spend it living the lives they want.
The Hate U Give
Sixteen-year-old Starr Carter moves between two worlds: the poor neighborhood where she lives and the fancy suburban prep school she attends. The uneasy balance between these worlds is shattered when Starr witnesses the fatal shooting of her childhood best friend Khalil at the hands of a police officer. Khalil was unarmed.
Soon afterward, his death is a national headline. Some are calling him a thug, maybe even a drug dealer and a gangbanger. Protesters are taking to the streets in Khalil's name. Some cops and the local drug lord try to intimidate Starr and her family. What everyone wants to know is: what really went down that night? And the only person alive who can answer that is Starr.
But what Starr does—or does not—say could upend her community. It could also endanger her life.
12 Rules for Life
What does everyone in the modern world need to know? Renowned psychologist Jordan B. Peterson's answer to this most difficult of questions uniquely combines the hard-won truths of ancient tradition with the stunning revelations of cutting-edge scientific research.
Nudge: Improving Decisions About Health, Wealth, and Happiness
Every day we make choices—about what to buy or eat, about financial investments or our children's health and education, even about the causes we champion or the planet itself. Unfortunately, we often choose poorly. Nudge is about how we make these choices and how we can make better ones. Using dozens of eye-opening examples and drawing on decades of behavioral science research, Nobel Prize winner Richard H. Thaler and Harvard Law School professor Cass R. Sunstein show that no choice is ever presented to us in a neutral way, and that we are all susceptible to biases that can lead us to make bad decisions. But by knowing how people think, we can use sensible "choice architecture" to nudge people toward the best decisions for ourselves, our families, and our society, without restricting our freedom of choice.

13 Things Mentally Strong Parents Don't Do: Raising Self-Assured Children and Training Their Brains for a Life of Happiness, Meaning, and Success
Do today's children lack the flexibility and mental strength they need to cope with life's challenges in an increasingly complicated and scary world? With safe spaces and trigger warnings designed to "protect" kids, many adults worry that children don't have the resilience to reach their greatest potential. Amy Morin, the author who identified the characteristics that mentally strong people share, now gives adults—parents, teachers, and other mentors—the tools they need to become mental strength trainers. While other books tell parents what to do, Amy teaches parents what "not to do," which she says is equally important in raising mentally strong youngsters.
As a foster parent, psychotherapist, and expert in family and teen therapy, Amy has witnessed first-hand what works. When children have the skills they need to deal with challenges in their everyday lives, they can flourish socially, emotionally, behaviorally, and academically. With appropriate support, encouragement, and guidance from adults, kids grow stronger and become better. Drawing on her experiences and insight, 13 Things Mentally Strong Parents Don't Do combines case studies, practical tips, specific strategies, and concrete and proven exercises to help children of all ages—from preschoolers to teenagers—build mental muscle and develop into healthy, strong adults.